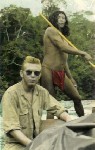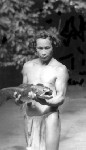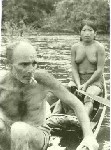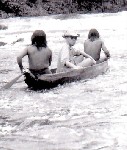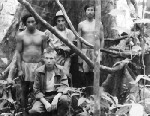 January 13, 1950, the young French Explorer Raymond Maufrais disappeared on the Tamouri River, at the frontiers of the territory of Inini, Guyanese Amazon. Since mid November 1949, he was trying to perform an impossible raid with only his dog company and inadequate equipment: Rally Maripasoula on the Maroni in French Guiana in Belem at the mouth of the Amazon to the Brazil. Either a course of about two thousand kilometers across the forest largely uncharted at that time. This incredible challenge included, fills the difficulty of the mythical mountains Tumuc-Humac, crossing the lifts and descents of dozens of quick and impetuous leaps the Camopi, the L'Oyapock, rio Kouc and rio Jari finally.
The tragic disappearance was - especially when the roadmap of the intrepid boy, recovered by an Indian and handed over to the authorities revealed appalling circumstances of drama - would probably fallen into oblivion if, between 1952 and 1964 the father of the young man, Edgar Maufrais, had itself begun research, always unsuccessful, constantly repeated, through the Green hell.
With his expedition unfinished and cruel, Raymond had raised, including the most, a genuine and legitimate emotion. Edgar gave rise to the admiration, often the compassion of his contemporaries, transfixed by the temerity to this thin man, worn in tests by an unwavering paternal love. In spite of him, he flew star to his son, even if its action granted the posthumous fame disappeared he had ever known during his lifetime. The Amazon route of this stubborn man was so extraordinary that today, Maufrais, Odyssey is always among the most memorable events of post-war. Especially for people who, to titles various y have been mixed.
Among the small European ten, twelve years themselves are happened relay to assist father courageous, I was one who witnessed him longer, 1956-1957. With Edgar Maufrais, I participated, while I was nineteen, two expeditions, including one - the longest of the twenty-four he had set up - was also tiring that novel: binding L'Oyapock-Maroni, by way of the Emerillons, preceded by the ascent of Summit tabular and forced browsing, alone, on the Tamouri. We have had in these tests the disease, anxiety, despondency, hunger, fatigue and fever, in short, all the miseries that had endured six years earlier, in the same place, Raymond Maufrais.
Required when finally, exhausted and gripped by an unquenchable hunger, we were saved by Indians, only one conclusion: Raymond Maufrais was dead. But the unhappy father resolved never to admit this hypothesis, but the only one that could be advanced. Wherefore, after two expeditions I took with him and that, logically, be the last, Edgar Maufrais continued his insane quest in 1964. For nothing.